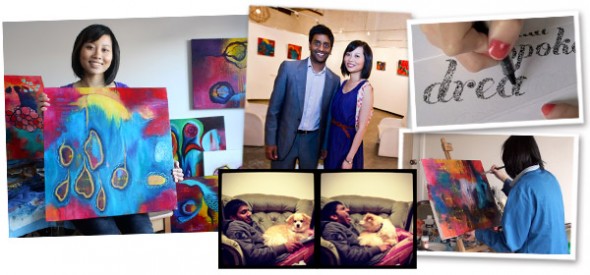 - – - – - – - – - – - – - – - – - – - – - – - – - -
Hi hi! I'm Brenda
I'm an Artist, Designer, Dreamer, Doodler, Durian lover and new mama to Indigo & Jelly
I've always had a love affair with the visual world, with a deep passion for colour and light. I am interested in the truth, our inner emotional landscapes and practicing living a life that is both fully present AND full of faith. I believe that we should surround ourselves only with things that are immensely useful or beautiful. There is so much beauty in this life, we should embrace it completely — including the lessons & the painful scary.
My calling is to create art that sing to you the way my favourite artworks sing to me.
It's like they have hit this divine chord that strikes the same song in your heart and you are filled with such connection & sublime happiness that goes beyond words.
All in partnership and intimate relationship with the divine — God, Jesus & Spirit. I love all three. Beautiful art & great design (especially beautiful fonts) + poetic stories makes me swoon.
- – - – - – - – - – - – - – - – - – - – - – - – - -
Artwork
::  I create abstract paintings intuitively with a dash of meditation ::

You want your space to be surrounded by beauty, while having that special something that makes you stop to ponder and evokes your emotions and inspired introspection. That's where I come in.
My intuitive style, love of colour and intricate details means you'll get artwork that continues to speak to you as you live with it on your wall. Every time you look at it you'll see a new detail, or the colours will stir up something inside you. Don't just put something pretty on your wall, have art that is an expression of our inner landscape, a continuous narrative of the viewer's story, your story.
:: I also make drawings that are full of doodlings, patterns & passion ::
For special occasions or special people in your life, you'll need beautifully designed, unique gifts. You'll find my drawings in prints & other paper products in my Shoppe, which continues my commitment to produce emotionally connected art that inspire and encourage you to faithfully live a mindful creative life.
:: Join the Sashé Society ::
I share my journey of creating this artist-life and business, along with behind-the-scene news and exclusive goodies with my amazing Sashé Studio Society members.
- – - – - – - – - – - – - – - – - – - – - – - – - -
The story of Sashé
When I was in Year 10 (16yrs old) I had a computer class that was meant to be more about databases. It was very technical and would have been very boring, but my teacher made it very design & aesthetic based. One day we had an assignment to design a magazine cover (not on any adobe creative suite software – so it was quite primitive).
I had The. Best. Time. Ever.

I discovered my joy in laying out type and images – playing with colour and composition. I had that divine 'Ooooo' feeling where I realised: I want to always feel this good at work and work on creative & pretty things. We had to name the cover and for some reason, the name Sashé came to me.
(I pronounce it Sash-shay. Sash - as in dash + Shay – as in play)
Sashé – my alter ego.
To me Sashé represented a feminine strength, beauty, courage, joyous pursuit of one's dream & happiness with a twist of the exotic. Sashé became my label for my creative dreams, a name of strength and courage to pursue them in spite of fear & scary unknowns.
When I was accepted into a university degree in design, despite my doubts, Sashé also became my default label when I had to name designs for assignments. It probably fed my unconscious dream to create my own little brand, a mini empire of creativity, art, inspiration & growth in pursuit of my dream life. So when I finally took the leap into being the painter & artist I've always dreamed of becoming, it came full circle to name it Sashé Studio. Sashé is like my alter ego; the stronger, braver, edgier, no BS tolerance side. The side that stood for her passion and believed in dreams, the side that was willing to work hard and through the scary. A hallmark of my inspiration and the pursuit of my dream creative life.
- – - – - – - – - – - – - – - – - – - – - – - – - -
Fancy artist statement…
I paint multi layered, mostly abstract, acrylic paintings.
Sometimes my paintings are a whisper of colour, soul & imagination, inviting you to explore and discover hidden details. Sometimes they are a chaotic struggle as the abstract nature battle with organic & figurative forms.
My work is shaped by change, experimentation & questions raised in my musings & meditations on life and our inner landscape. The depth and subtlety of colours, play of pattern and detail are born from my past as a designer; consciously designed to evoke visual & emotional reactions.
On the other hand, I also strive to allow intuition and the inspiration of the moment to take over. Life is a dance of chaos and (attempts of) control – gifting us our unique perspectives which add a richer tapestry of experience to our inner landscape. This dance is reflected in my practice to allow the painting to emerge naturally, surrendering to surprising changes along the way. Like a memory of a dream filtered by emotions & intuition.
Layering free flowing colour with organic shapes and symbols means the process of creation is another facet of the story. A story of change and the capriciousness of life, while still seeking windows of understanding or just pockets to contain the chaos.
My love of detail can also be found hidden in my works, like the whispers from our inner voice, reserved only for those who pause to have a closer look.
My drawings are also the result of free-form intuition working with my trained desire for planned design. The intricate abstract details are drawn freely, purely from a semi-subconscious level; a mirror of the exploration and meditations in my painting practice.
These abstract lines also seek some containment among the chaos by forming the silhouette of recognisable shapes in letter-forms. Consciously and thoughtfully designed with typography and hand lettering to inspire & encourage the viewer. Providing relief with a direct message among the chaos of detail and secret whispers among the abstract details.
- – - – - – - – - – - – - – - – - – - – - – - – - -

Contact
I'd love to hear from you!
the best way to get in touch with me is via
email: brenda [at] sashestudio [dot] com
or I can also be reached on:

facebook: https://www.facebook.com/sashestudio
skype: brenda.mangalore
mail birthday presents (Oct 25th. I love stationery, chocolates & dahlias) to:
P.O Box 208, Ringwood VIC 3134, Australia.
or
fill out this contact form
p.s Receive all the gossip & exclusive goodies by joining the Sashé Studio Society for free!